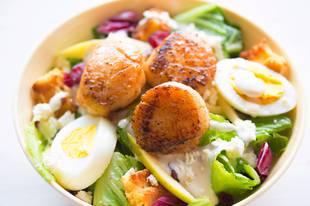 Asian Steamed Sea Bass that is good for 4 serving.
If some of the following ingredients are not available on any supermarket, as an alternative, you can try these ingredients: Balsamic vinegar can be subbed with Ilocos vinegar ("sukang Iloko"), Scallops can be subbed by Oyster mushrooms, Kalamata Olives is a tangy, black olives and it can be subbed with the regular black olives. And Mirin and Sake can be subbed by vinegar but it is more suitable replacement particularly with rice wine or distilled white vinegar. Using those will do the trick. Just mix a tablespoon of vinegar with 1/2 teaspoon of sugar for every tablespoon of mirin.
Ingredients:
6 oz mirin
6 oz sake
2 tbsp minced fresh ginger
2 medium zucchini
2 medium yellow squash
2 medium carrots
Drizzle of olive oil
4 (4 oz) Asian (black) sea bass fillets
Salt and white pepper, to taste
1/2 cup chicken or vegetable broth
Directions:
1. In a saucepan, stir together mirin, sake, and ginger. Set on medium-low-heat and cover until needed.
2. Slice zucchini, squash, and carrots lengthwise, 1-inch thick. Then cut into thin strips to form spaghettilike strands. Set carrots aside.
3. Preheat a saute pan over medium heat. Add a drizzle of olive oil and saute carrots for 1 minute.
4. Season the fish with salt and white pepper, add to mirin mixture, and cover. Steam for 10-12 minutes, or until firm.
5. Add chicken broth to carrots and bring to a boil, then reduce heat.
6. Add zucchini and squash to carrots, season with salt and white pepper, and cover. Simmer until tender; the vegetables should still hold their spaghetti shape, so be careful not to overcook.
7. Remove all food from heat. Arrange vegetables on plate, top with fish, and serve.