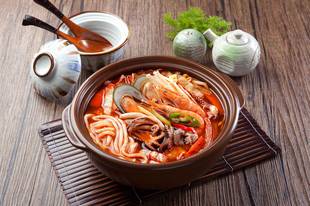 Seafood Provencal that is good for 4 serving
Although most of the following ingredients suggested are not always available in local supermarkets do not let this prevent you from whipping fish and seafood dishes that raise the bar in the taste division.
Here are the ingredients that can be replaced with locally procurable items, that almost stimulate the texture and taste of the original recipes.
Ingredients:
1 tbsp olive oil
1 medium red onion, thinly sliced
1 medium red bell pepper, thinly sliced
1 medium yellow bell pepper, thinly sliced
2 tbsp minced garlic
1 lb fresh tomatoes, chopped
1 cup vegetable broth or water
1 1/2 lb mussels, washed
1 cup white wine
1 cup clam juice
1 lb littleneck clams, washed
Zest of 1 lemon
10 fresh jumbo scallops
Salt and pepper, to taste
1 lb medium wild shrimp, peeled and deveined
2 tbsp chopped fresh basil
Directions:
1. Heat oil in pan, then saute onion, peppers, and 1 tbsp garlic over medium heat for 15 minutes. Add tomatoes and broth; simmer.
2. In another hot saute pan, add mussels, 1/2 tbsp garlic, 1/2 cup wine, and 1/2 cup clam juice. Cover and cook mussels until all shells open. Drain in a colander and reserve remaining liquid. Repeat process with clams.
3. Strain reserved mussel and clam liquid; add liquid and lemon zest to tomato sauce.
4. Season scallops with salt and pepper and sear in a saute pan 30 seconds each side; set aside, Sear shrimp in same pan 2 minutes each side. Add seafood to sauce; simmer 20 minutes on medium-low. Add basil; stir.