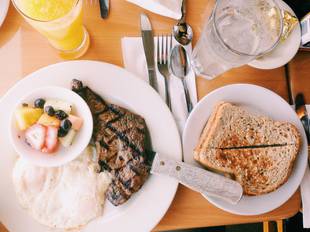 Steak is a standard food that is present on the table during special occassions. Even on a romantic dinner, steak is present and serve well for the couple to enjoy and had fun. But beef and pork is kinda expensive and totally time consuming to prepare that's why a simple recipe for a mouth watering burger steak as a substitute for beef and pork steak is here.
Ingredients:
1/2 kg of Burger steaks
3 tablespoon of cooking oil
1/2 cup of chopped onions
1/2 cup of garlic (minced)
1 pack of gravy powder
1 cup of water
1 can of sliced mushrooms
1/2 teaspoon of powdered pepper
Preparation:
For the preparation of Burger Steak
1. Heat the pan and pour some cooking oil.
2. Fry the burger steaks and set it aside after to remove the excess oil.

For the sauce
1. On a separate pan, heat the pan and pour some cooking oil.
2. Saute the garlic and onions
3. After that, pour some water and the gravy powder and the sliced mushrooms after.
4. Continue on stirring until the sauce become thick.
5. Add the powdered pepper after.
6. Serve the burger steaks and pour the sauce on top.