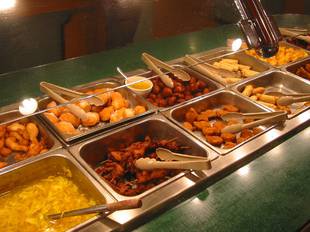 "Chinese buffet2". Licensed under Creative Commons Attribution-Share Alike 3.0 via Wikimedia Commons
In todays generation eating healthy food is very essential. Specially because a lot of us are sitting whole day in work. Add that we are also exposed daily to harmful elements like polution. Then it is not surprising that sometimes we get to think that we need to start living a healthy life. So here are some healthy food that you can eat to start out your healthy lifestyle. These food are not just healthy but are also easy to make.
1. Cereal With Yogurt
Prepare a cereal and instead of using meal replace it with low-fat yogurt. Then add honey and lemon to add some flavor. This is a healthy meal that is also a low fat combo of cereal with it's high fiber and low-fat yogurt for a better tummy.
2. Pizza
I know what you are thinking but it's not the pizza you can order for delivery. What I'm talking about is make your own pizza. It's not that you can't say that a delivery pizza isn't a healthy food but I'm very sure you can conjure in your very own kitchen a healthier pizza than it. Toast a slice of whole-grain bread. Then top it with tomato slices, cheese, basil leaf or any leafy vegetable. Add salt and pepper and it's ready to eat.
3. Vegan Tofu Scramble
This one might not be the healthiest food out there but I can assure you that this is a very healthy meal. In a frying pan combine tofu, spinach, red onion and vegetarian bacon. Saute for 15-20 minutes or until the veggies are cooked.
4. Taco Salad
This taco doesn't even need a shell. So you can make this one with just a basic household ingredients. For the salad, combine fresh lettuce, tomatoes, cheese, lean ground beef, baby spinachs, black olives, corn and black beans. For the dressing 2 table spoon salsa, 1 table spoon low-fat yogurt, 1 table spoon olive oil and 1 table spoon of chili powder.
5. Low-Carb Roll-Up
On a plate place a thin slice of a turkey or smoked ham. Topped it with 1 table spoon of pesto and cheese. Add either baby spinach leaves, lettuce or even an avocado to add flavor. Then roll up the turkey or smoked ham.
6. Curried Chicken Salad
Dice a 1/8 cup worth of roasted chicken breast. Add 1/8 cup of yellow or red onions, 1/4 cup of grapes and 1/2 table spoon of olive oil. For the dressing combine 2 table spoon of low fat yogurt and 1/2 table spoon of curry powder.
7. Berry Yogurt Smoothie
Blend 1/2 cup of blueberries, 2 table spoon of honey, 1/4 cup of milk and 1/2 cup of frozen blue berries. Now you just don't have a very delicious smoothie but also a healthy one.
8. Baked Crispy Chicken Fingers
Sliced chicken into finger like shapes and coat them with panko crumbs. If you don't have panko crumbs also known as japanase style breadcrumbs then a regular breadcrumbs will also do. Baked the chicken in a 400F pre-heated oven for about 20 minutes or until it is golden brown.
9. Fruit Parfait
Layer together in a cup, 1 cup of low-fat yogurt, 1/2 table spoon honey, chunks of banana and strawberries. You can even add other fruits you like.
10. Spicy Veggies
In a casserole combine 1/4 cup of diced tomatoes, 1/2 cup of lettuce, 1/4 cup of okra and 1/2 cup of spinach. You can also other vegetables you like. Cook for about 10 minutes or until cooked through. Add favorite hot sauce and serve.