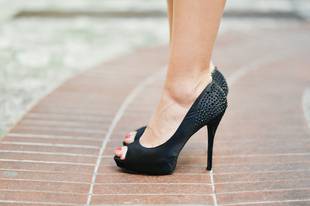 Being fat, full figure, chubby or whatever screen names they use to make it sound not offensive is not easy. Finding the perfect outfit for you is difficult. You really need to be careful on consider the design, colors and how it fit on your body before buying the clothes. But the thing is, even you are not skinny or doesn't have the body of a Victoria Secret model, it doesn't mean that you are now going to give up your passion for fashion. In fact, there are still a lot of ways to become fashionable despite of your full figure body. You just need to be creative and confident.
Invest In Shapewear
Wearing the right undergarments, especially body shapers, will help slim those unwanted bumps and allow clothes to hug and fall better. So better include girdle and waist binder on your shopping list.
Buy the right size
It's always best to try things on (sizes always vary). A size smaller can draw unwanted attention to certain areas, while a size bigger drowns you and can make you look heavier. Best example is wearing super fitted outfit like long sleeves blouses with lunging neckline partnered with a pencil cut skirt.
Dress in monotones
Picking one color from head to toe slims your overall figure and elongates your body. Avoid clothes with decorative designs like polka dots and strips. It will widen the appearance of your body. Better to wear dark color clothes like black, brown and maroon.
Highlight your assets.
Use clothes to your advantage to hide areas you wish to conceal by matching lights and darks. If you're bottom-heavy, wear darker colors on that area and lighter shades on top and vise versa.
Avoid extra frills
You want to steer away from details that can add volume to your look-like ruffles or bubble-style skirts-to avoid looking bulky.
Play with Prints
Printed pieces can help hide problem areas when worn strategically. Big prints can overwhelm you if you're petite, while small prints can emphasize an area you want to conceal.
Work the proper accessories
Accessories can help veer the eye away from the flaws you want to conceal, but avoid wearing statement pieces all at once. Instead, make one piece your focal point.
Heels are a must-have
Heels make the legs look leaner (plus you look taller and elongated). The added height can make your outfit look more put together, too. High heels are mandatory on your outfit despite the fact that it will give you so much pain on your sole. But if you are on a casual outift and wearing a stilleto might not be appropriate. You can wear wedges as an alternative. Besides, that is still high heel shoes.