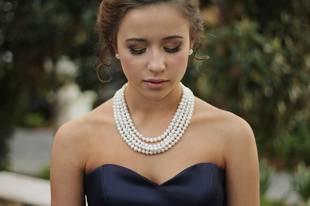 "Haggardness is next to ugliness"

Looking haggard and exhausted will give you an impression that you are not taking good care of yourself. But we can't blame ourselves if there will be times that we'll forget to put make up, change nice clothes and look presentable because of how busy our life is. especially if we have deadlines to meet like exams, assignments and projects.

Imagine, you have an important appointment with someone and you have no idea how you look like. Until you suddenly saw a mirror and realized how devastating your look is, you panicked because going bare-face is totally a big NO and definitely not on your mind. You don't want to meet someone and witness your haggard look to the ninth power. You immediately look for a comfort room to retouch but unfortunately there is no comfort room around.

This blog is for you! Here are the easy steps that can make you look gorgeous without applying tons of makeup and consuming more minutes in front of the mirror.
1. Achieve To Have A Perfect Skin
When we say perfect skin, we are not only pertaining to fair skin. A perfect skin is a healthy skin. So whether you have a fair or dark skin tone, what really matters is your skin must looks supple and healthy then it will be perfect.

Gorgeous look always start with fresh skin. Having a lot of pimples on your face will make you difficult to apply makeup and also signifies that you have an unhealthy body. So to fool them that you have a natural gift of luminuos skin, start by washing, toning, and moisturizing your face. You have to make it part of your routine before going to sleep at night. Avoid sleeping with your makeup on. If you really want to have a beautiful skin, discipline and dedication is a must.
According to Patty Bell, a Pittsburgh-based makeup artist
Drinking lots of water will plump the skin from the inside.
Our body is 70% of liquid and skin cells are made mostly of water, and if you are dehydrated, your skin will look and feel dry, too.
Bonus tip: Not because you're going for a lighter makeup, you are going to skip on applying sunscreen. The best choice is a lightweight, oil-free sunscreen with at least SPF 30. and if you are smoking, quit immediately if you really want to achieve the perfect luminuous skin because smoking is not good for the health and besides it will make your skin dry and look older.
2. Dont Forget The Base
To conceal your wrinkle, freckles and dark spots, don't forget to apply BB cream first as the base of your make up. And after that, you can now apply face powder and blush on. The advantage of applying BB cream first on your face before applying face powder is it will make your look naturally smooth and silky and most of all it will make your make up last for the whole day. It will actually give you matte finish look that will surely won't make you retouch on the comfort room every hour since we all know that oily face is always every girl's dilemma.

According to Mary Schook, a New York esthetician and makeup artist,
Applying your makeup with your fingers or makeup sponges instead of brushes will also create a more natural look".
So use freshly washed fingertips! Some women are allergic on using brushes. In fact, if you don't take care much of your makeup brushes and don't keep it on proper places, Bacteria and germs will accumulate on it. and that will be the culprit for causing blemishes, acne and rashes on the face. Some ladies prefer using their finger tips on applying blush on and concealer cream because using brushes make their pores open but just make sure that you hands are clean and sanitized by isopropyl alcohol first before applying your make up to your face using your finger tips.
Bonus tip: For hiding small-to-moderate imperfections on your face without caking up too much, use light-reflecting concealer stick on dark or red areas like around your nose, under your eyes, forehead and on your chin.
3. Tie Your Hair Up
To look neat and elegant during a bad hair day, tie your hair up to keep your long bangs out of sight and keep your looks fresh. Aside from that, it will give you a good impression that you are an elegant and professional because of how tidy and presentable you look.
4. Wear Pearl Accessories
Pearls are always related with vintage style and elegant beauty. Nobody can beat the classic! Pearls are timeless, basic fashion jewelry which makes stylish statement and makes the new women's best friend. In many ways, pearls are better than diamond when it comes to work or casual wear because it gives you a sophisticated look without drawing too much attention to them.
Bonus Tip: It is advisable to wear just one pearl accesory at a time. So don't pair your pearl necklace with pearl earrings and bracelet. A polished and sophisticated look is best obtained when wearing just one at a time.
5. Use Contact Lenses
Using fashion contact lenses will make your eyes look bigger, rounder and beautiful. Just make sure that the contact lenses you bought is from a legit optical clinic. Make sure to replace it when its expiration date due and of course it requires proper lens care and cleaning of lens cases each day, to avoid potentially serious eye infections. The advantage of using fashion contact lenses is it will make your look more appealing just like Korean Actresses and Models. It will also make your look younger and fresher because of making your eyes pop up.
6. Apply Nude Pink Lipstick
To make you look more demure and fresh, apply nude pink lipstick. Why nude pink? why not red? its because nude pink lipstick will make you look naturally gorgeous and it will rock in any outfit that you wear whether it is a casual or a formal outfit. And most of all, It actually match in any skin tone! and it immitates a Barbie looks.
7. Perfect Eyebrow
Eyebrow tattoo is so overrated now a days. Different cosmetic clinic that offer eyebrow tattoo will be found everywhere. It has a lot of advantages and disadvantages at the same time. But make sure that you will not have any regret for making this big decision. Having your eyebrow tattoed will make your eyebrows always on fleek whether after swimming, without makeup and etc. But not everybody can afford the price since it is a little bit expensive. For that reason, you can still achieve an "eyebrow on fleek" by trying this simple step which is applying a very lightcoloured eye shadow to the area just under your eyebrows to create the illusion of lift. This will also help to highlight the arches of your brows. It frames your face and makes your eyes really stand out. So even you have no make up, you can be save from a haggard look if you always trim your eyebrow to make it neat and keeping it always in shape for a perfect aura.