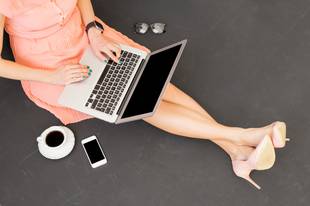 You + your laptop = Fame!
There's a new breed of icons rocking the World Wide Web: the bloggers. Fans fervently wait for daily entries from these social media rock stars. Therefore, we are convinced that if anybody can become famous via blogging, well, it may be the Imbalife reader that reading this article right now. Heed these tips and become a blogging sensation yourself.
Be 100% You.
When you start your blog, be proud of your own identity. Copying others is definitely not a way to get your name out there. Write about what really interests you, be it food, fashion, travel, or music. Or even tutorials so that you can help other people who's seeking for help to make their life easier. Be yourself.
Choose Your Online Home Well
Tumblr.com is good, since it's the most used now. You can have more readers that way. Tumblr also has nice templates. Keep things simple and neat. Mind your layout and fonts, too. If your name is FirstName LastName and you want your blog to be on firstnamelastname.com then you will need to buy a domain, webserver and choose a blogging platform. If you are not familiar with these terms and this overwhelms you then fear not because there are people out there that can help you setup your own blog. I suggest get the great guys from www.optionaldrop.com (or you can mail them through support[at]optionaldrop.com) to help you on getting your awesome blog online.
Be OC About Your Pictures
People will want to see what you saw, what you ate, and what you did. Without great photos, you're not going to make it. But, you don't need an SLR or a professional photographer to take daily candid photos of yours. You just need to have a point and shoot, and you can manage with that. In fact, some bloggers usually promote their website through instagram by uploading great quality photos since in social media you can gain a huge amount of audience to notice you blog and get hook to it.
Post Something Everyday.
You have to updateeveryday. If people see that you don't create posts daily, they won't visit your blog as often. Writing more often will also help you develop that story telling skills. Someday you might be able to tell a story of your pet waking you up in the morning in a more epic way. Aside from that, don't forget to ask questions or suggestions to your followers on you post like "What can you guys say about this color? Do you guys prefer blue or yellow?" or "I'm having a hard time choosing where to celebrate my mom's birthday, Do you guys have any great ideas which restaurant is great to spend my mom's birthday?" something like that. In that way, you can have an opportunity to get in touch with your followers and of course to gain more traffic on your website.
Make Your Blog Dependable.
Check your facts because as a blogger, you are almost act like a journalist. You have to be responsible for what you say and what you post. Don't be reckless with your words. It will be a shame not just to your followers but to other bloggers if they find out that your blog is not authentic. What I mean is, some bloggers just copy from other blogger's post and recycle it. They just change and ramble the words used but the thought of the article is still the same. Don't worry because through www.copyscape.com you can track if the article that you published is stolen and copied by the other sites.
Mind Matters
Never forget about values and ethics. It's always better to have an inspirational blog than to have one that feeds on other people's misery. Aside from being careful on what you post, be also careful on using the images for your post. Make sure that it is yours and not grabbed from other websites. If you don't have much money to hired a photographer or buy photos online, There are websites that offer their photos for free like https://pixabay.com and https://au.fotolia.com.
Guard Your Reputation
Develop a trust level. If people keep shoving things at you, Don't mind them. But if there are bashers that keep on commenting bad things about your post and it's not tolerable, Just delete it. Cut off the negativity and don't let the haters have room on your life. Remember, the main purpose of your blog is to spread good vibes, inspiration and positivity. Nobody wants a depressing website that shrinks energy.
Make A Difference
Use your blog to promote worthwhile causes. Don't just write about yourself. Bloggers reach a big audience, so never ever take that power for granted. Find a niche that can reach out big audience and can also help people like blogs about health, about current events and news and about money.