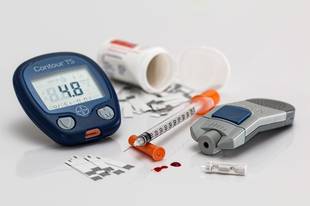 Are the spaces around you organized so the healthy choice is always the easiest one? We'll teach you how to target problem areas where clutter gets in the way of your diabetes management goals.
Clutter can do more than make it hard to find your keys, a good snack, or workout socks. "Fundamentally, clutter is about avoidance more than anything else," says Mindy Godding, a decluttering expert and certified professional organizer. "If you declutter and establish systems, it can help you live with intention. It's empowering to be able to access what you need when you need it."
In the same spirit, decluttering can help you better reach your health goals.
In this article, we often repeat the same three lessons: eat well, keep moving, and take your meds. It's smart to arrange the spaces around you so it's easier to do all three.
"Set up your environment so your habits are healthy," says Melissa Joy Dobbins, M.S., RDN, CDE, of soundbitesrd.com.
We've put together an easy six-step system for decluttering with your well-being in mind. It starts, as always, with asking yourself what's in the way of achieving your health goals. Then you'll work on sweeping away those obstacles.
By the final step, you'll have made your path to better health just a little more clear.
1. CHOOSE A GOAL.
Grab a piece of paper and write down a health goal that's been hard for you to achieve. Our examples on the following pages will help you get started.
2. TIE IT TO A PERSONAL SPACE.
Write down where this goal "lives." Keep it narrow so your decluttering project doesn't overwhelm you. For example, if you want to snack healthier, maybe your goal lives in the pantry. If you want to get to Zumba class on time, your goal might live in the closet where you keep your workout clothes. If you're trying to better stick to your medication schedule but your supplies are all over the house, pick a place for that goal to live, such as a shelf in the kitchen cupboard.
3. WHAT'S IN YOUR WAY?
What's going on in that space that makes it hard to achieve your health goals? Make a list of the clutter or obstacles that stand in the way of what you want.
4. MAKE A PLAN.
Think about ways to clear out chaos so that making the best choices will be easy. Pinterest and BHG.com/Storage are great resources for organizing and decluttering ideas. But remember: This isn't about prettying things up. It's about making your spaces work hard for your health.
5. GET STARTED.
Put a date for your project on the calendar. You're more likely to follow through if you make it official in writing. Next, make a list of supplies you'll need. And then set a time limit so you'll stay on task and won't get too overwhelmed (another reason it's important to pick an easy, manageable goal area).
6. PAT YOURSELF ON THE BACK.
Choose a reward that motivates you to finish the project. Yes, you'll get the benefit of a clear path for better health. But immediate rewards make any project more fun.
DIGITAL TOOLS THAT CAN HELP
BrightNest
Custom schedules and how-to lists for all your cleaning, organizing, and home tasks. A stylish interface and smart reminders (switch out the furnace filter!). Free; brightnest.com
Todoist
This clean and simple task manager combines all the to-do-lists scattered around home, at work, and in school into an ultimate master list. Add details such as due dates to tasks in-app or delegate some of the work to others. Free; todoist.com
ChoreMonster
This goofy-fun app has both parental and kid versions-parents assign jobs, approve work, and designate rewards. Kids log in to check for upcoming chores or the status of current ones, then earn reward points by completing them. Free; choremonster.com
Tody
Enter your tasks for each room and this clever app will manage their frequency and remind you when to get cracking. Free for iPhone; todyapp.com
EXAMPLE 1
| | |
| --- | --- |
| GOAL | Take lunch to work most days instead of eating fast food |
| WHERE IT LIVES | The storage container drawer |
| WHAT'S IN THE WAY? | My make-and-take supplies are scattered everywhere. I can't find what I need when I need it. PS: Where the heck are all the lids? |
| MY PLAN | Locate all lunch tote supplies. Keep only the ones with lids! Tidy up that drawer and replace everything in an organized way. |
| SUPPLIES | Small curtain tension rods (nice solution from BHG.com!) |
| REWARD | When I finish the project, I'm going to get that cute soup Thermos with the built-in spoon. |
EXAMPLE 2
| | |
| --- | --- |
| GOAL | A walk every day for me and my pooch. |
| WHERE IT LIVES | In the entryway |
| WHAT'S IN THE WAY? | The leash and my favorite tennies are literally buried somewhere in there under the hats and scarves and coats. |
| MY PLAN | Clear out the junk from the entryway. Hang a hook for the leash. Find a home for my tennies and accessories. |
| SUPPLIES | Hook, entry bench, or shoe bin |
| REWARD | Cute new retractable leash with the built-in doggie-doo bags! |
EXAMPLE 3
| | |
| --- | --- |
| GOAL | Monitor and control my blood sugar even when I'm not at home |
| WHERE IT LIVE | My purse |
| WHAT'S IN THE WAY? | My needs and supplies are all jumbled up in there. I have to dig around for what I need when I need it. |
| MY PLAN | Do a little online shopping for a better diabetes to-go bag. Lots of cool options out there. I'll read the reviews and decide what works best for me. |
| SUPPLIES | New bag (pictured: Banting Diabetes Wallet, $43; myabetic.com) |
| REWARD | When I've organized all my supplies, I'll buy a new gentle lancing device. |