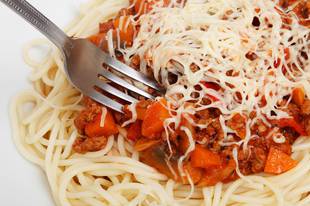 Spaghetti is a a delicious and popular food that you can see everywhere. It is usually serve from birthday parties unto fast food chain like McDonalds. The sweetness and spiciness of it that blend together are definitely love by the kids. And even I am already adult. I won't deny that one of the food that I easily crave for is Spaghetti. Nobody can resist the creaminess and tastefulness of the sauce and noodles. For that reason, here is a simple recipe of Spaghetti that you can try at home. Don't worry because the ingredients are not expensive and the steps are just so easy that's why it won't take long for the preparation of this.
Ingredients:
1/2 kg Spaghetti Noodles (cooked)
1 pack of Spaghetti Sauce
1/2 cup of chopped onions
1/2 cup of garlic (minced)
1 can of evaporated milk
1 can of liver spread
1 tablespoon of powdered pepper
1 bowl of sliced hotdogs
1 cheese
1/2 kg of ground beef
1/2 cup of cooking oil
3 pcs of laurel leaves
3/4 cup of sugar
1 teaspoon of salt
Preparation:
1. Heat the wok and pour some cooking oil.
2. Saute the onions and garlic.
3. Pour the ground beef and sliced hotdogs and keep on sauteing it. Wait for it to be cook.
4. Once the ground beef is already cooked, Pour the spaghetti sauce and lower the heat of the stove.
5. Mix the sauce well and pour the can of milk and liverspread on the wok and keep on stirring.
6. After that, Put some powdered pepper and laurel leaves.
7. Pour the sugar and pinch of salt.
8. Lastly, put some seasoning powder and mix it well. Make sure that all ingredients are blend together.
9. Pour the cooked spaghetti noodles on the wok and mix it well.
10. And add some grated cheese on top.
It is now ready to serve. Have fun and enjoy eating.