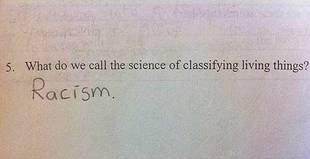 We know that kids have a tendency to say some hilariously funny things. But what makes it over-the-top funny is the setting and timing at which they say them. They seem to say the funniest things at moments which we would consider to be totally inappropriate.
In the moment of pressure during their school tests, these 25 sarcastic kids gave some of the most smartass answers you will ever see. You would think that with their grades on the line, they would have at least attempted the correct answer.
But instead, they give answers so comedic that even George Carlin and Bill Hicks would be proud. If I was their teacher, I would have accepted some of these answers just because of how clever they are.
Here are 25 hilariously genius answers kids gave on their test questions:
1.
2.
3.
4.
5.
6.
7.
8.
9.
10.
11.
12.
13.
14.
15.
16.
17.
18.
19.
20.
21.
22.
23.
24.
25.