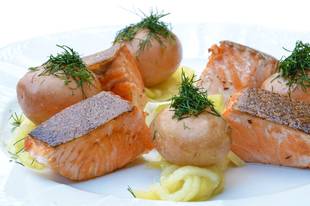 If you've never bought scallops, clams, or a new type of fish, we have a few tips to help you shop smart.
1. Fresh insight
Buy dry-packed sea scallops (not bay scallops) that are sized U/15 or U/10. For fresh clams, ask if they've been cleaned or if you should do it yourself. Live clams should be closed. If not, give them a tap – if they don't shut, discard. Rule of thumb: Fresh fish shouldn't smell "fishy."
2. Frozen know-how
Most "fresh" fish and seafood has been frozen at some point, so you can save cash by shopping the freezer section. Avoid and fish or seafood that appears to be freezer-burned. Buy shrimp head-off in the shell. Shrimp is sized by the number per pound – a small number means big shrimp.
3. Expert help
Chat up your store's fishmonger. Ask how to store, clean, and prep your seafood (they can usually do cleaning and prep for you, too). And always ask how long a purchase will stay fresh.
Few Guides for Preparing Seafood Dish
Don't let preparing seafood and fish intimidate you and landlock your cooking. Take a note from our friends in the Northeast and enjoy these coastal classics. You'll boost your heart health with omega-3 fats and lower your risk of type 2 diabetes with each bite.
A Better Seafood Boil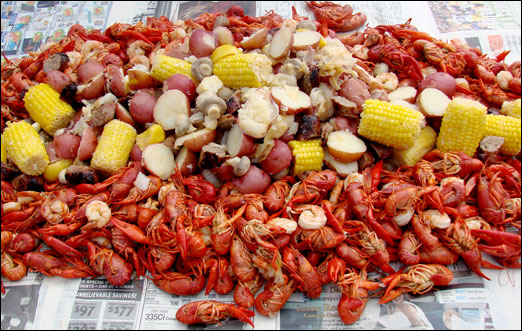 New England's favorite backyard party starts with heaps of seafood and veggies thrown into one big pot over the fire. Here's how to do it right:
1. Develop flavor.
Don't peel your shrimp before cooking. The shells deepen the flavour. You can remove them as you eat – it will be messy, but worth it. To serve, sprinkle with paprika and lemon juice for flavour without salt.
2. Control carbs.
Cut corn cobs into thirds and nix the traditional potato chunks. Cut bread at a 45-degree angle so slices look larger.
3. Manage mess.
For a traditional boil, strain both and spread food onto parchment or newspaper. Provide bowls for everyone to discard shrimp and clam shells.
Fish and chips' popularity ballooned during the Industrial Revolution. The cheap eats were perfect for blue-collar workers needing a quick lunch.
Few Simple Seafood Dishes that are Easy to Prepare:
Fish and Chips
We trimmed calories from this British mainstay that immigrants brought across the pond by using cereal for the crunchy breading. Use sweet potatoes to amp up vitamin A intake.
Clam chowder
Chowders are typically a simple, cream-base soup filled with seafood, potatoes, and corn. These were abundant ingredients for East Coast settlers and easy to throw together and simmer on the stove while other work was getting done. Our version uses low-fat milk and vegetable stock to reduce calories. To keep carbs in check, we swapped the corn and potatoes for fiber-packed lima beans.
Shrimp rolls
Folklore says fishmongers invented lobster rolls to use up cheap pieces of the crustacean that merchants and big-city restaurants didn't want. Today, since lobster isn't always cheap or easy to find, our recipe calls for shrimp. Instead of mayo and butter, we use light mayo, tofu (trust us!), croutons, and lettuce wraps.
Sea scallops
Scallops are a bivalve – the "meat" is encased between two shells, which is almost always removed before market. Healthy and rich-tasting on its own, this coastal favorite just needs a quick sear – not much salt, breading, or fat is necessary.
Crab cakes
We've added salmon to our crab cakes. While haddock might be a more familiar fish on the East Coast, salmon boasts omega-3 fats, which studies show decreases risk of death from heart disease. Serve these cakes with our yogurt-base sauce- it contains less unhealthy saturated fats than tartar sauce.