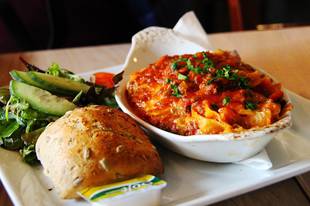 Lasagna are a wide, flat pasta shape, and possibly one of the oldest types of pasta. The word also refers to a dish made with several layers of lasagna sheets alternated with sauces and various other ingredients.
Nobody can resist the tasty melted cheese together with the noodles that was spread by tomato sauce with ground meat. Therefore, a simple lasagna recipe is here to teach you how to prepare it.
Ingredients:
Sauce:
1 pound Ground meat (You can use beef, pork or chicken)
3 tablesppons of Olive Oil
2 cloves Garlic (minced)
1/2 cup chopped Onion
1/2 cup chopped Bell Peppers (Green and Red)
1 can Tomato Paste
Pepper
Sugar
Remaining Ingredients:
8 ounces Lasagna noodles
2 tablespoon salt for the cooking water
1 tablespoon olive oil
16 ounces low fat ricotta cheese
8 ounces sliced Mozzarella cheese
1/3 cup grated Parmesan cheese
Preparation:
Start sauce about 30 to 45 minutes in advance.
In a large deep saucepan over medium heat, sauté onion and garlic in 3 tablespoons of olive oil until onions are soft. Add ground beef and brown, stirring frequently. Pour off excess fat. Add remaining ingredients; stir well. Reduce heat to low and simmer slowly, uncovered, for 1 hour.
Cook noodles in salted boiling water as package directs, stirring frequently to prevent sticking. Drain; add 1 tablespoon olive oil.
Spoon some of the sauce into a large 3-quart baking dish. Top with a layer of noodles. Spoon about one third of the sauce over the noodles and follow with about half of the ricotta, a few tablespoons of Parmesan, and about one third of the Mozzarella cheese. Repeat with another one third of noodles, another one third of the sauce, the remaining ricotta, another one third of the mozzarella and a few tablespoons of Parmesan cheese. Finish with the last layer of noodles, the remaining sauce, Parmesan, and mozzarella cheese.
Bake, uncovered, at 325° for 45 minutes.
It is good for 6 serving. Enjoy!