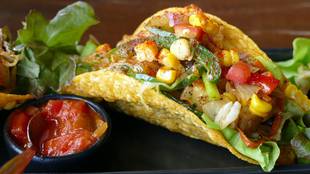 Cajun Catfish Tacos that is good for 4 servings.
Who says that tacos are not healthy? This recipe can transform tacos into a healthy and delicious meal by adding fried catfish seasoned with cajun rub for the enticing flavoring. If you have no idea what Cajun rub is, it is a blend of seasonings for Cajun cuisine that generally includes chiles and other spices such as celery, garlic, mustard, onion, and peppers.
Ingredients:
For Salsa:
1 red tomato, diced
2 tsp finely diced red onion
2 tbsp chopped fresh cilantro
2 tbsp fresh lime juice
Salt and pepper, to taste
For Slaw:
2 tbsp red-wine vinegar
2 tbsp Dijon mustard
2 tbsp chopped fresh cilantro
4 tbsp olive oil
1 tsp agave nectar
2 cups shredded cabbage or prepackaged coleslaw mix
For Fish:
Drizzle of olive oil
1 lb wild catfish fillets Cajub rub of your choice
8 corn tortillas
1 avocado, diced
Directions:
1. Make the salsa: In a bowl, combine all the salsa ingredients. Set aside.
2. Make the slaw: In a bowl, whisk together vinegar, mustard, cilantro, olive oil, and agave. Add the cabbage, toss, and refrigerate until needed.
3. Prepare fish: Preheat a grill pan over high heat. Drizzle with olive oil. Season fish with Cajun rub on both sides. Cook fish for about 4 minutes on each side, or until firm to the touch.
4. Warm the tortillas in a pan.
5. To assemble tacos, add slaw to tortillas, then layer with fish and salsa. Top with avocado.