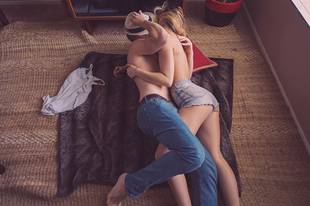 Tis the season to be jolly. Falalala lala lala. This holiday is suppose to be fun and exciting and also SEXY. Because not only Valentine's Day is a perfect season to show and spread love but also Christmas season. The warm touch of your love one is definitely perfect and rejuvinating for this cold season. Try this few tips we have to get that spark going and spend your December remarkably, exciting and full of sexiness.
1. Be A Sexy Santa
If you've never thought that Santa is sexy, then think again. The color red is synonymous with romance and studies have found that men thought that women were more attractive when they wore red. So if you want to have a sexy Christmas, then it's time to purchase a sexy Christmas Santa outfit. To make it extra special, dress up and tie a bow around yourself. Then let your partner unwrap you to reveal the naughty outfit beneath.
2. Ice Skating
After eating your weight in Christmas canapés and finishing off every trip to the shops with a hot chocolate, most of us tend to feel a little heavier than normal during the festive season. To counteract Christmas weight gain and to restore your pre-Christmas body confidence, go on some active dates. Ice-skating is great because it will burn off those Christmas roasted chicken, most people who aren't skilled skaters tend to cling to one another when they hit the ice, which will raise the heat and the sexual tension between you and your skating buddy.
3. Drink Wine Together
Nothing can beat the relaxing moment with your love one if both of you are drinking wine and just spending time talking and laughing about each other's jokes. Of course after the wine session, you know what to do. Show your partner how you are craving for her/him like kissing his neck and holding his chest.
4. 12 Days Of Sexiness
The 12 days of Christmas tradition gives you the perfect opportunity to have a sexy Christmas this year and give your love life a revival. If yours and your partner's night-time antics have become predictable, get out of your rut by suggesting to your partner that you try 12 new naughty acts over the 12 days of Christmas. Be as adventurous as you feel comfortable with, but food, new places to do it and new ways of kissing tend to be fun and new enough to excite you both.
5. Get A Massage Together
While other people are busy and embracing all the stress on shopping this season. A stress free and relaxing Christmas is totally amazing. While both of your eyes were closed and enjoying every touch of the therapist to your body, both of you could hold hands and feel the warmth and erotic sensation of each other.